Ixchel Mendoza Hernández

Ixchel Mendoza Hernandez is a Mexican freelance choreographer and dancer based in Berlin. She completed her Choreography and dance studies at Artez Arnheim in 2007. In summer 2007, she received a scholarship of DanceWebEurope, joining ImPulsTanz Festival, Vienna. In 2009 she was awarded with the Artistic Residencies Program exchange for Artist of Iberoamerica and Haiti in Mexico city. In 2011 she extended her practice in to video making, as result creating a shot movie in collaboration with Anna Weißenfells "when i will come twice and go once" that has being internationally presented. From 2013 till 2015 she had being engaged at the MA SoDA, HZT in Berlin, investigating a phenomena she call "Visual Ghost". As dancer and performer she works for Kat Válastur, company s-h-i-f-t-s, Clement Layes, Laurie Young, Elpida Orfanidou, Susanne Kennedy, between others. In 2016 she got granted the Einstiegsförderung from Berlin and a residency at PACT Zollverein, Essen for her research "Two identical mirrored". In 2017 she was awarded with the Long Life Burning scholarship, in cooperation with Uferstudios and CCN Choreographic Center Montpellier, for her solo research "The Reversed Alchemist" and with the Einzelprojektförderung from Berlin for her piece"THE TWOFOLD PARADOX" premiered in November 2018 at Open Spaces_ Tanzfabrik Berlin. Her upcoming piece "The Reversed Alchemist: Figure 1-3" will premiere in July 2019 in Berlin.
Powered by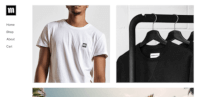 Create your own unique website with customizable templates.